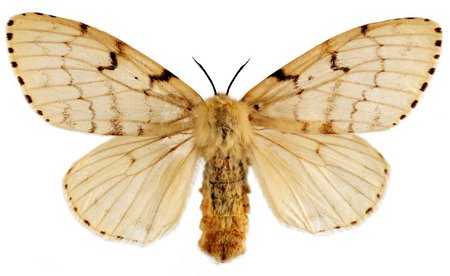 Forestry Extermination
The European Gypsy Moth (Lymantria dispar) are significant but occasionally severe pests of forest and shade trees throughout Ontario. The leaves of close to 500 species of trees and other plants can be eaten by gypsy moth larvae. The adult insect lacks fully developed mouthparts and therefore do not feed but the fully grown larvae can consume as much as one square foot of foliage in a day depriving the tree of the leaves needed for food production by converting sunlight into food through photosynthesis.

The Gypsy Moth is the most destructive defoliator of hardwood and softwood trees and if trees are enduring additional stress factors or are recently planted they may succumb to the gypsy moth attack. Gypsy moths attack trees under stress more readily than healthy trees. A healthy tree will recover from a defoliation but trees weakened from drought, previous defoliations, age, over-harvesting, pollutants, fungi, and wood boring insects may not survive.

Some trees are not suitable hosts for first instars of gypsy moths but are good hosts for later instars. This is the case with many coniferous tree species. Also some host trees are suitable for only a short period of time after which they undergo physiological changes that reduce their suitability. For instance beech is suitable for young larvae for less than one week.

Trees can be grouped in the following categories of likelihood of attack by the Gypsy Moth larvae:
Preferred trees: Oak, aspen, willow, apple, crabapple, tamarack, white birch, witch hazel, mountain ash, basswood, ironwood and linden
Acceptable trees: maple, walnut, chestnut, hickory, cherry, hemlock, elm, hackberry, yellow birch, beech, cottonwood, box elder, ironwood, older caterpillars may also eat pine and spruce
Seldom selected trees: green, white or black ash, balsam and fraser fir, locust, scotch pine, red cedar, tulip poplar, catalpa, sycamore and dogwood.
Gypsy moth outbreaks occur in cycles and can be predicted up to 9 months before through routine observations. The populations exist in 4 distinct phases which occur synchronously over wide geographical regions:
Innocuous phase - very low population levels. Difficult to find gypsy moth life stages and this phase can persist for several years
Release phase – occurs over 1-2 years with rapid and significant population increases
Outbreak phase – Populations high enough to cause noticeable tree defoliation. Usually not sustained for longer than 1-3 years due to high levels of insect mortality from disease and starvation
Decline phase – Significant insect activity reduction due to high mortality from disease, starvation and competition
IPM Control Program for Gypsy Moth
The Gypsy Moths' eggs are globular, whitish and about 1/32" in diameter. They are laid in oval masses of 75-1000 (averaging 400-500 viable eggs) and are covered by buff coloured hairs from the female's abdomen. Egg masses may be ½' – 2" long depending on their shape and remain from the time they were laid in August to hatch in April. The newly laid egg mass is firm to the touch, covered with tiny hairs and coloured a light tan to golden yellow. Older egg masses from previous years are bleached white to pale yellow and are soft, spongy and tattered. The egg masses can be found on logs or debris on the forest floor or on the uppermost branches of trees and anywhere in between. The female deposits egg masses on firewood piles, lawn furniture, play sets, houses and other human structures as well as vehicles. The number of egg masses is a good indicator of the number of caterpillars to expect in your area next spring and yearly monitoring is advised to obtain an indication of the activity levels for the following year. If you see egg masses regularly or are aware of Gypsy Moth activity in your area in recent years you should consider doing a few 1/40th acre surveys to get a better idea of whether you will have defoliation from gypsy moths next year.
Warrantied Extermination recommends the Fixed Radius Plot Quick survey guide:
Measure a piece of rope 18 feet 6 inches long
Stake one end of the rope and with the other end draw a circle around a typical piece of your property
Count every new egg mass on trees and the ground within the circle with the radius of 18.6 feet (1/40th of an acre). This count is multiplied by 40 which gives an estimate of the number of egg masses per acre

The gypsy moth population is predicted to be a nuisance and cause heavy defoliation if you see:

An average of 13 or more egg masses per circle in residential areas. You should judge the health of the gypsy moth population from the egg masses observed. Egg masses that are thick and of large size (about that of a 50 cent piece) showing little or no parasitoid damage (such as small holes) and containing large quantities of undamaged fertilized eggs indicate a healthy population. 250-500 egg masses per acre indicate gypsy moth populations that can produce significant defoliation.

We wait until after the first hard frost before oviciding egg masses in the fall on a temperature appropriate day. We complete this task well before egg hatch which usually coincides with red oak buds opening in the spring as the egg suffocation requires several weeks with the biopesticides employed by our forestry exterminators.

The second component of our treatment consists of two applications of Bacillus thuringiensis subspecies kurstaki or Btk in the spring when the newly emerged caterpillar is most vulnerable. Btk is a naturally occurring bacterium in soil, used for over 30 years in Canada that is an Ontario Class 11 Biopesticide which is applied by our Ontario Licensed Forestry exterminators to host trees at night during feeding periods 3-5 days between applications. Health Canada indicates that Btk does not appear to affect the immune or endocrine system. No toxic effects have been demonstrated in humans or other mammals. Studies of the formulants in the Btk pesticide did not find any significant health risks.

Health Canada states that no special precautions are necessary or required when spraying Btk. Reduce exposure by staying indoors with windows and doors closed when Btk is being sprayed in your neighbourhood or yard. Btk breaks down quickly on leaves through exposure to sunlight and micro-organisms and normally breaks down within 1 – 4 days. It is not toxic to mammals, birds, fish, or other insects such as honeybees.

Activation of Btk toxins requires alkaline conditions that exist only in the digestive systems of certain insects. The acidic stomachs of animals and humans do not release the Btk toxins. Furthermore, for the activated Btk toxins to work they have to become attached to the surface of a cell lining the digestive system. Only the guts of certain insect species have the correct attachment sites for the Btk toxin.

Btk does not survive in warm blooded animals and humans and passes through their digestive systems without producing toxic effects. Btk produces protein crystals that are poisonous only to the larvae of certain moths and butterfly species and must be eaten by the larvae in order to be effective. Btk protein crystals and spores are mixed with water and other ingredients called formulants to produce a pesticide product (Foray 48B) The formulants help the pesticide to stick to the leaves and needles of trees. Btk will remain lethal to the caterpillar for approximately 4 days. Ultraviolet light and rain will gradually breakdown the bacteria.

The Health Canada Pest Control Product number for Btk and the trade name is: Foray 48B PCP # 21464 Bacillus thuringiensis kurstaki.